Dymetra Pernell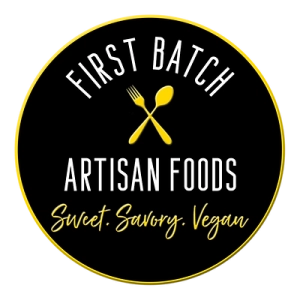 When someone mentions vegan, we think of healthy and nutritious food, not the sweet and savory indulges that we all crave. It's safe to say that vegan food has a bad wrap amongst "foodies" and is often seen as basic or bland food, lacking that special something that makes you go back for more. This dilemma has created a demand that Executive Chef Dymetra Pernell has taken head-on.
Since 2017 Chef Dymetra and her company First Batch Artisan Foods have been producing healthy, high-quality baked goods and award-winning ice cream. Although Dymetra's background is healthcare going as far as attaining a doctorate in neuropathy, her love for healing has created a business that's aiding our community fight against the diseases that stem from poor eating choices. Dubbing herself the "Plant-Based Princess" Dymetra's products have become a hit amongst the Atlanta vegan community and omnivores alike. First Batch Artisan has made history becoming the first black-owned vegan business of its kind.
Dymetra offers a vast menu of decadent ice creams and baked goods, such as her famous sweet potato pie or award-winning Cookies & Cream dairy-free ice cream. Dymetra plans to continue to expand to cure those craving those sweet treats without experiencing the guilt and health issues that follow. In recognition of Women's History Month, we at PREP are proud to have Dymetra as a member and she is extremely devoted to the well-being of others and the epitome of a woman dedicated to success.
How did you first become a part of the restaurant industry, and what was your first job?
Wow, let's see if I can simplify this answer. I've been cooking since I was a child. After a lengthy career in retail, I decided to start my own catering company where we serviced the greater Los Angeles area. My first job was at LAX At TCBY.
How long have you been in Georgia and what first brought you here?
I've been in Georgia since 2013; I came here to work as an (NMD).
How did you choose your name?
Upon transitioning to a plant-based lifestyle, I decided I missed ice cream. I sat down and asked myself, "If I was vegan ice cream, what would the ingredients consist of?" So, I sat down, wrote out a recipe, tested it, and the "First Batch" was perfect. I decided to add "Artisan Foods" to the name because I had plans on becoming more than just an ice cream company.
How did you create the idea for your new business?
The vegan community was grossly underserved in access to tasty vegan desserts; I decided to fill in the gap.
What do you think are the most important skills for a new food concept?
Understanding your audience, knowing what they want, and whether you can provide the service for a reasonable price, but remain profitable.
What's the biggest food business-related challenge that you had to struggle to overcome?
Supply chain and labor continue to be a struggle, especially post-pandemic. It seems the world went vegan so I find myself short on supplies some weeks.
What prompted you to start a food business?
I didn't choose the field, the field chose me. As demand continued to grow for my products, I had to choose between my job in health and wellness, and going back to my first love, food, and desserts.
What's on your menu? Why did you choose this cuisine?
We have too many things to name, but we offer a meal prep service where the items rotate weekly. Some of our customer favorites include our gumbo, cheesesteak, chicken sandwiches, peach cobbler, ice cream, and banana pudding; all vegan, of course. We also provide desserts to several eateries in the city including Slutty Vegan.
What's the best part of owning your own company?
Having a great deal of flexibility to pivot when necessary; job security. For example, we were located inside of a non-essential store when the pandemic hit. We made the pivot from an ice cream shop to a meal prep company and it saved us from having to shut down entirely.
What lessons have you learned since launching your own business?
The most important lessons were to know my numbers (margins and profitability) and get a great CPA to handle your accounting.
Is there anything you would have done differently at the start?
I don't think so; we've done an amazing job at using the profits to grow the business and stay in the black. We've been very blessed in that regard.
Any new exciting news or events coming?
Two words, FOOD TRUCK
How can someone buy your product?
Our products can be found at the following places around town:
Slutty Vegan
Bar Vegan
Wadada Healthy Juice Bar
Brooklyn Tea
Our online store
What would you do differently next time if you could launch your business again?
I wouldn't change a thing.